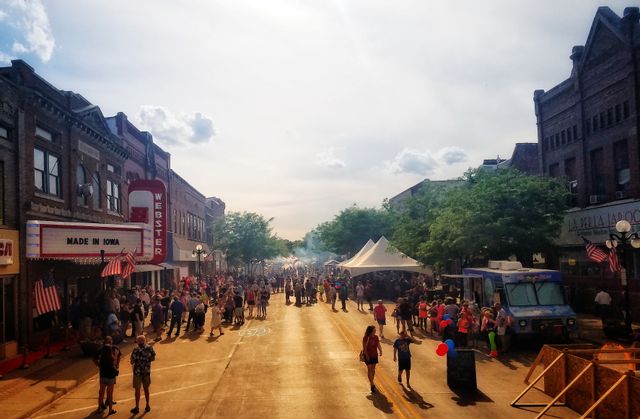 Webster City Downtown District
Webster City is conveniently located in the middle of everywhere and is nestled among the scenic Boone River.
Our community offers many aspects of small-town life with the conveniences of larger towns, including eight quality parks, bicycle & walking trails, and indoor and outdoor swimming pools. We are fortunate to have the beautiful, fully-endowed Kendall Young Library, as well as a High School and Middle School, two public elementary schools and a parochial elementary school, and the Iowa Central Community College Campus.
The City of Webster City is nestled along the banks of the Boone River in North Central Iowa, about an hour north and west of Des Moines. Providing opportunities for hiking, fishing, canoeing and kayaking, the river is one of the community's most beloved amenities. Following the Boone River as it winds its way around the city is the 5.7 mile Boone River Recreational Trail which is paved and 10 feet wide. The trail begins at Nokomis Park and ends at Briggs Woods County Park. It provides a view of prairies, farmland, timber, wildlife, and of course, the river itself. It connects two golf courses, one county park, two campgrounds, three city parks, and one private park. Many of the community's residents enjoy walking, running, and biking along the trail all through the warmer months of spring, summer, and fall.
When it comes to your shopping and dining needs, Webster City's downtown has it covered! 
Our downtown has a wide variety of restaurants and specialty shops to offer. Escape the craziness of the malls and box stores and instead stroll along our beautiful streetscape that features brick pavers, lush trees, and elegant historic lighting.